Nano Dimension's Electrifying Additive Manufacturing Survey Confirms 3D Printed Electronics as a Strategic Technology – News
Study Polled Engineers, Designers, Business Decision Makers; Findings Show Concerns of IP Theft and Long Lead Times to Receive Prototypes
NESS ZIONA, Israel – July 3, 2018 – Nano Dimension Ltd., a leading additive electronics provider (Nasdaq, TASE: NNDM), today announced the results of the Electrifying Additive Manufacturing Survey, which found nearly 91 percent of respondents expect 3D printed electronics will be a strategic direction. More than three quarters (76%) are already exploring the technology for design validation (31%), prototyping (40%) and low-volume custom manufacturing (29%). The global survey to help understand 3D printed electronics and its future applications, surveyed 159 respondents including engineers, designers and businesses decision makers across multiple industry sectors. The findings show that 3D printed electronics technology is important for their agility and their ability to accelerate product development, realize greater design innovation and build more complex geometries – all of which will help them stay ahead of competitors.
With more than 75 percent of respondents saying they rely on short-run, low-volume external PCB prototyping services, and 73 percent of respondents saying they go through at least two and often more than three iterations before reaching the final prototyping and testing phase, it's not surprising there is much interest in in-house 3D printing for printed electronics. Levels of confidence about being vulnerable to IP theft were high. Almost 70 percent of respondents said they worry about their intellectual property when they send their designs to third-party prototyping facilities.
Within the very competitive electronics landscape, companies also face concerns over issues such as prototyping lead times. Survey respondents noted the lead times for receiving their prototypes when they use outside prototyping facilities range from 1 to 2 weeks (37 percent), while 33 percent cited times of 2 to 4 weeks, and 11 percent said it can take longer than 4 weeks. Just 19 percent said it took less than a week.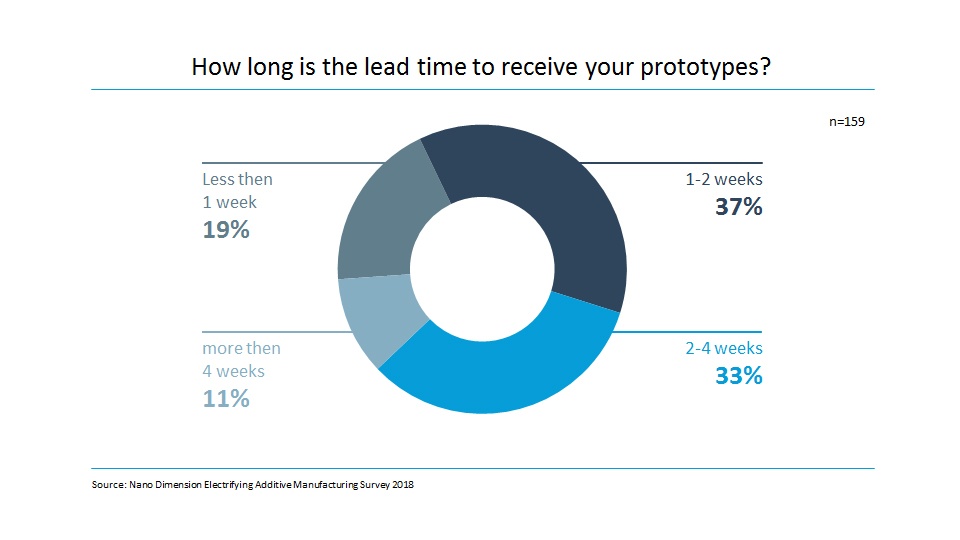 According to the survey, the benefits survey participants anticipate from using 3D printers for printed electronics include accelerating product development (85 percent), innovation (71 percent), the promise of agile development (62 percent), the ability to print complex geometries (57 percent), cost savings (36 percent) and protecting their company's intellectual property (31 percent).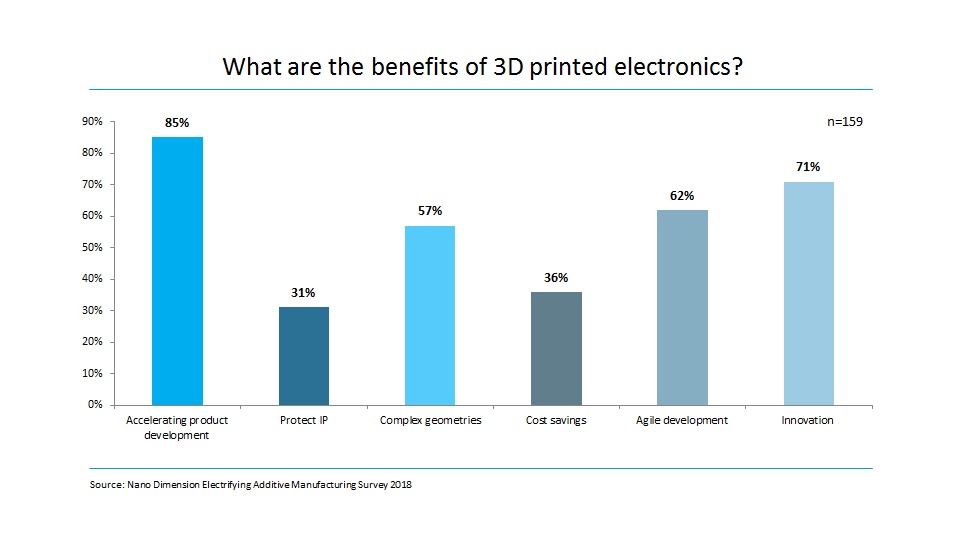 Also notable was how survey respondents said they will use 3D printed electronics, with the results as follows: printing multilayer PCBs (75 percent), manufacturing flexible electronics (68 percent), creating sensors and devices for the Internet of Things (56 percent), creating non-planar designs (51 percent), building embedded components (54 percent), antennas and RFID components (50 percent), molded interconnect devices (MIDs – 35 percent) and electromagnets (24 percent).
"The results of this survey of electronics design experts from industry leading companies confirm the strategic importance of additive manufacturing of electronics," said Simon Fried, President of Nano Dimension USA. "Our technology's ability to promote mechatronics development speed, agility, innovation, cost and IP security is a significant capability enabler."
About Nano Dimension Ltd.
Nano Dimension (Nasdaq, TASE: NNDM) is a leading electronics provider that is disrupting, reshaping, and defining the future of how cognitive connected products are made. With its unique 3D printing technologies, Nano Dimension is targeting the growing demand for electronic devices that require increasingly sophisticated features. Demand for circuitry, including PCBs – which are the heart of every electronic device – covers a diverse range of industries, including consumer electronics, medical devices, defense, aerospace, automotive, IoT and telecom. These sectors can all benefit greatly from Nano Dimension's products and services for rapid prototyping and short-run manufacturing. For more information, please visit www.nano-di.com.
Forward-Looking Statements
This press release contains forward-looking statements within the meaning of the "safe harbor" provisions of the Private Securities Litigation Reform Act of 1995 and other Federal securities laws. Words such as "expects," "anticipates," "intends," "plans," "believes," "seeks," "estimates" and similar expressions or variations of such words are intended to identify forward-looking statements. For example, Nano Dimension is using forward-looking statements in this press release when it discusses that its 3D printed electronics technology will help customers stay ahead of competitors, and that the technology's ability to promote mechatronics development speed, agility, innovation, cost and IP security is a significant capability enabler. . Because such statements deal with future events and are based on Nano Dimension's current expectations, they are subject to various risks and uncertainties. Actual results, performance or achievements of Nano Dimension could differ materially from those described in or implied by the statements in this press release. The forward-looking statements contained or implied in this press release are subject to other risks and uncertainties, including those discussed under the heading "Risk Factors" in Nano Dimension's annual report on Form 20-F filed with the Securities and Exchange Commission ("SEC") on March 15, 2018, and in any subsequent filings with the SEC. Except as otherwise required by law, Nano Dimension undertakes no obligation to publicly release any revisions to these forward-looking statements to reflect events or circumstances after the date hereof or to reflect the occurrence of unanticipated events. References and links to websites have been provided as a convenience, and the information contained on such websites is not incorporated by reference into this press release. Nano Dimension is not responsible for the contents of third party websites.
NANO DIMENSION INVESTOR RELATIONS
Miri Segal-Scharia, CEO, MS-IR LLC | 917-607-8654 |
NANO DIMENSION PR CONTACT
Galit Beck, Public Relations Manager | 972-542539495 | galit@nano-di.com
You might also be interested in
Stay Updated
Be informed of the future of additive manufacturing &
3D printed electronics