Fox
Combined place & dispense processes
Small footprint
Expandable in any direction
Mineral cast chassis
Nonstop feeder & production
Fast, durable linear motors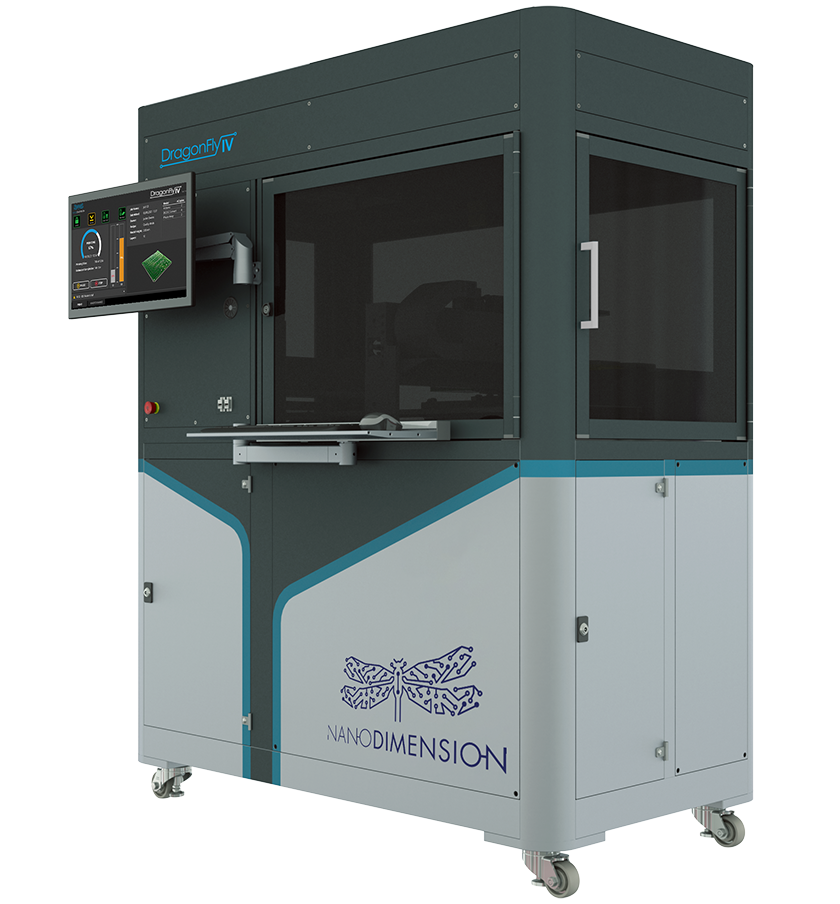 DragonFly® IV
Multi-material, multi-layer printer
Generates entire circuits
Ensures IP protection
Environmentally sustainable
Designs from concept to validation
Lowers R&D operation costs
Essemtec Fox is a proven surface-mount-technology (SMT) pick-and-place system that allows for printed circuit board (PCB) placement accuracy and speed, with high-quality engineering.
DragonFly IV® is a multi-material 3D printing system able to craft functional circuit boards and electronic devices within hours by simultaneously depositing proprietary conductive and dielectric substances, while integrating in-situ capacitors, antennas, coils, transformers, and electromechanical components.
Side-by-side they are a complete AME prototyping solution that accelerates the assemblyprocess, overcomes soldering challenges, protects IP, and creates supplementary internal synergy.
Combining AME & SMT maximizes R&D possibilities
DragonFly® IV
PoC for 3D Hi-PEDs
Build volume 160x160x3mm
Conductive and dielectric inks
Conductivity 30% ± 5%
75/100µm L/S
150µm VIA
Low thickness variation <5%
IST (IPC-650) over 300 thermal cycles (RT to 100°C)
HATS (IPC-650) over 500 thermal cycles (0 to 70°C)
Footprint: 1400x800x1800mm
FOX MFC
Stand alone configuration
1 pick and place head
More than 5000 cph
Feeder package 8mm-24mm tape
Tray for single component
Solder paste jet value build in
Dispensing speed up to 100,000 dph
Case size 01005 (0.4×0.2mm)
User-friendly SW, Gerber file import
Footprint W/O hood 880x1090mm
Get a quote