Achieve astonishingly small details with the Fabrica 2.0 micro 3d printer
____________________________________________________________________________________________
Complexity at No Extra Cost
Precision micro 3d printed parts with all the advantages of additive manufacturing.
"The second advantage was the fact Fabrica's technology could 3D print such a small part for just a few tens of dollars, in a functional material, with the required details, accuracy, and geometry, and in a very short time frame." MultiVu
Automated Precision
The Digital Light Processor (DLP) engine captures every detail in your designs.
1-Micron Resolution
Fabrica 2.0 delivers 1-5 micron additive layers for the highest precision 3D parts.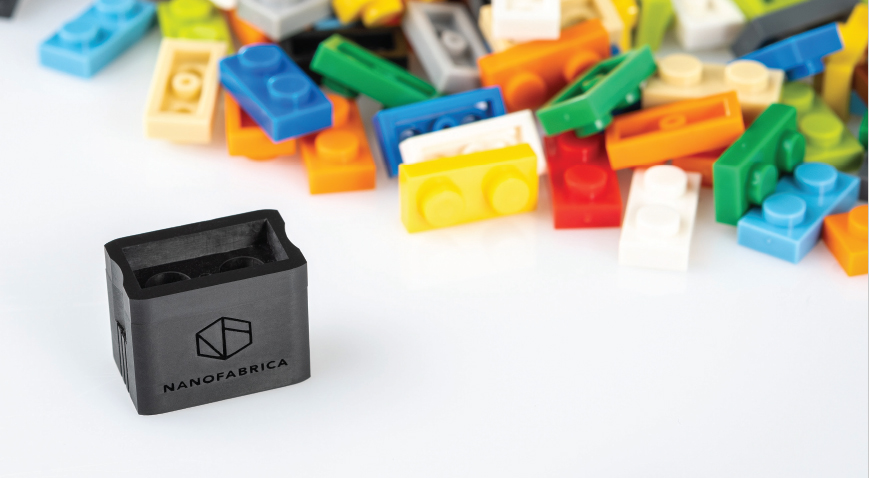 Why Wait to Iterate?
Generate functional, micro 3d printed parts in hours – then repeat.
"The delivery time for five 3D printed parts was one day. Using CNC, five parts would have taken between 3-4 days." AntiShock
Breakthrough Speeds
With 5 to 100 times faster printing rates, Fabrica 2.0 surpasses other micro manufacturing processes.
Bypass Tooling
Produce high-mix, low-volume batches of parts at a time with no need for lengthy tooling setup.
Production-Grade Output
Material excellence from the leader in precision Micro AM technology
Diverse Applications
Plastic parts for use in aerospace, electronics, automotive, medical, optics, and R&D.  Read more.
Growing Opportunity
Increase your client base with cutting-edge micro-component capabilities.
Unparalleled precision from Nano Dimension's Fabrica 2.0
Miniature Connectors
Fabrica precision Micro-AM delivers precision connectors to be used in prototyping new devices
Optical Housing
As electronic consumer products become more compact, the ability to create and prototype miniature parts becomes more critical
Filter with Micro Channels
Miniaturized parts such as this microfilter enable manufacturers to test and innovate with new functionality at micro-sizes
Fabrica 2.0 Printer Specifications
Resolution
1.9 micron
Tolerance
1 micron
Surface Roughness (RMS)
0.8 micron
Layer Thickness
1-5 micron
Build Speed
1 mm Height Per Hour
Build Volume
50mm x 50mm x 100mm
Weight (Net Weight)
450 kg
Weight (Gross Weight)
550 kg
Dimensions
140cm X 90cm X 170cm
Operating Temperature / Humidity
24-30 °C / 40-60%
Power
100-240 V – 3 KW
Technology
Micro DLP AM System
Dimensions
140cm X 90cm X 170cm
Weight
550 kg
Power Supply*
100-240 V – 3 KW
Operational Humidity
24-30 °C / 40-60%

This data represents typical tested values at a controlled environment. Material properties can vary with part geometry, print orientation, print settings, environmental conditions and additional variables. To learn more about specific testing conditions, please contact a Nano Dimension representative. Specific performance of customer parts should be tested in accordance with customer's specifications.
The above detailed data was tested, measured, or calculated using standard methods based on, inter alia, ASTM and IPC standards and are subject to change without notice. To the fullest extent permissible pursuant to applicable law, Nano Dimension (including any affiliate thereof) disclaims all warranties of any kind, express or implied. The above detailed data should not be used to establish design, quality control, or specification limits, and is not intended to substitute customer's own testing to determine suitability for a particular application.