The past quarter has been an exciting one for Nano Dimension, with good progress made on multiple fronts. In the Asia Pacific (APAC) region, our partnership with AURORA 3D has granted us access to a sizable Chinese electronics market. Concurrently, we are now able to pursue business directly with the United States federal government, after successfully securing the US Department of Defense Commercial and Government Entity (CAGE) Code.
These catalytic events signal busy times ahead in deals, sales and product development. With the addition of several experienced members to our capable leadership lineup, we are confident of success.
All in all, the Nano Dimension team is well-prepared and well-positioned to lead a global transformation in the additive manufacturing of electronics.
---


Commitment to Growth in APAC
Nano Dimension recently signed a strategic partnership with additive manufacturing systems distributor AURORA 3D to market and sell DragonFly Pro 3D printers in the Chinese market. This partnership expands Nano Dimension's presence in Asia Pacific beyond the existing markets of Hong Kong, South Korea, Singapore and Taiwan.
We also opened a new Nano Dimension APAC subsidiary office and Customer Experience Center in Hong Kong to support continued growth in the region.
| | |
| --- | --- |
| | |
| Nano Dimension CEO Amit Dror (right) with General Manager of AURORA Group's 3D Business unit Daniel Chi at AURORA 3D's product launch conference in Shanghai, China on August 16, 2018 | Nano Dimension APAC Director Gilad Reshef (left) signing a strategic cooperation agreement with office design and automation giant AURORA Group and investment firm Shandong Guohui on August 16, 2018 |
---


New Opportunities in the US
To further develop our reach in the US market, we attained the CAGE Code from the federal government and formed our third channel partnership there with the leading 3D reseller Fisher Unitech. We also opened a Customer Experience Center at the company's U.S. headquarters, in Santa Clara, California.
---

New Members Boost Leadership Team
Our corporate objectives include strengthening our commercial reach while also supporting more customers. We also remain committed to maintaining our technological edge and further developing its applications. To aid in those efforts, we have brought new members aboard the leadership team. During the last few months, Nano Dimension has appointed Dr. Jaim Nulman as Chief Technology Officer, Tim Sheehan as Global Vice President of Sales and Customer Care and Dan Abraham as Vice President of Operations. Get to know more about these important additions to our executive team here:
| | | |
| --- | --- | --- |
| Dr. Jaim Nulman, CTO | Tim Sheehan, VP Sales | Dan Abraham, VP Operations |
Nano Dimension Appoints Dr. Jaim Nulman as CTO and EVP Product
Dr. Nulman is a proven influencer and innovator with more than 30 years of expertise working with companies from startups to Fortune 500 enterprises, including a 15-year stint as VP at Applied Materials. Jaim leads Nano Dimension's R&D and maintains our innovative culture, as we expand product commercialization and continue technological research.
Nano Dimension Appoints Tim Sheehan, VP Sales
Based in Boston, Tim brings years of 3D-printing sales experience to the USA and European sales teams. Tim has led sales, support and marketing teams at prominent global technology companies. As Nano Dimension's VP of Sales, Tim will drive relationships with strategic partners, resellers and customers across the globe and lead customer success and support operations.
Nano Dimension Appoints Dan Abraham, VP Operations
Dan comes to Nano Dimension with 15 years of global production leadership experience, including in operations, purchasing, distribution and quality management. His experience at Kodak and Stratasys will prove highly relevant as Nano Dimension applies a lean approach to drive business excellence and accelerate growth.
---

CEO's Reflections on Q2 2018 performance
Nano Dimension CEO Amit Dror shares his thoughts on the Second Quarter of 2018
Following the release of Nano Dimension's earnings report for the second quarter of 2018, CEO Amit Dror discusses the results and talks about what's in store for the rest of the year.
---

New Use Case Brochures Available for Download
Our flagship DragonFly Pro 3D printer opens up vast opportunities for multi-layer PCBs and non-planar designs that combine mechanical and electrical functionality in a single part. Here's some examples of what we have been using it for thus far - treat this as a starting point to brainstorm new designs for your own needs!

*Disclaimer IMPORTANT: PLEASE READ CAREFULLY. This ability of the DragonFly 2020 3D Printer, and the feature presented in this brochure is shown here for demonstration purposes only. Caution! This feature is still in development and is not released with the product. Any attempt to reproduce or imitate the feature is made at your own risk and may result in injury to the operator and/or damage to the printer You are strongly encouraged not to reproduce the feature or perform similar actions. For further information regarding the DragonFly 2020 3D Printer and the feature presented in this brochure, please contact www.nano-di.com/contact-us.
---

Nano Dimension in the News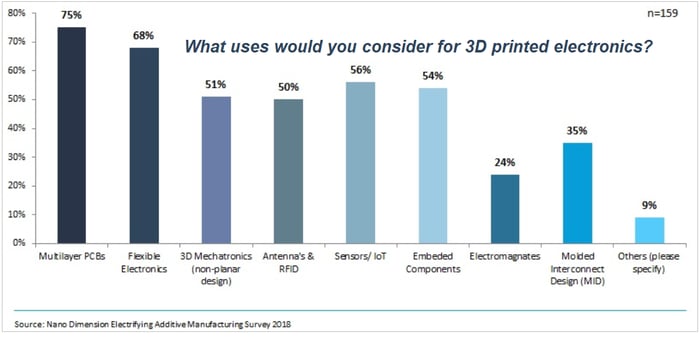 Nano Dimension's Electrifying Additive Manufacturing Survey Confirms 3D Printed Electronics as a Strategic Technology
We conducted a study that polled engineers, designers and business decision makers about their views on 3D printing for electronics. The findings show concerns of IP theft and long lead times to receive prototypes as reasons why so many companies are looking at 3D printing for electronic components.
Nano Dimension USA President Simon Fried on Ippio: "The Next Wave Of 3D Printing: 3D Printed Electronics"
After nearly three decades of cutting-edge innovation, 3D printing technology is evolving from plastics-and metals-based additive manufacturing processes to the next logical step: multi-material 3D printing and the ability to incorporate functional electronic elements into print jobs.
| | |
| --- | --- |
| | |
| Nano Dimension USA demo lab | 3D-printed PCBs |
Welcome to the Silicon Valley Neighborhood: Nano Dimension Arrives in California
I-Connect007 Technical Editor Dan Feinberg accepted an invitation recently to tour Nano Dimension's new USA headquarters in Santa Clara's Silicon Valley, which included a sit-down with President and Co-Founder Simon Fried.
Nano signs a strategic partnership with AURORA
3D fab+print discusses Nano Dimension's entrance into the Chinese market with a strategic partnership with the AURORA Group, a leading distributor of additive manufacturing systems. The AURORA Group will market and sell Nano Dimension's award-winning DragonFly 2020 Pro 3D printer for electronics to customers in China.

The Stock that Jumped More than 100% TodayCNBC talks shares of Israel-based Nano Dimension more than doubling in a single day, after the company announced the Pentagon opened the door for potential government contracts. At the same time, the 3D printer tech company also told investors it had successfully completed a deal with an un-named major U.S. defense company for the sale of its DragonFly 2020 printer.

---


Food for Thought
Harvard Business Review: Advances that are taking 3D Printing Mainstream
According to HBR, with rapid tech improvements and new business models, it is now prime time to move additive manufacturing beyond prototyping and into production. HBR cited Nano Dimension as a leading player in the field, enabling "electronic circuits and components to be embedded in the product, saving space and assembly costs."
Here are some of the technological improvements that are making additive manufacturing competitive with or even superior to conventional factories in a wide range of applications: Harvard Business Review: The 3D Printing Playbook
---


Meet Us at Upcoming Events